I had an itch to get an 1/8 scale buggy for a couple years, but didn't think I could justify it, seeings how I'm more of a basher then a competition racer. Finally I just said 'what the heck' and I ended up buying a Losi 8ight. About the same time I ended up making a track in the backyard, so I figured I'd play with the buggy there, or just all around the yard, like I do with my nitro Revo. These buggies are pretty big. I don't think they mind the grass to much.
Anyway, I had this buggy for a year, but never ran it. I was considering selling it to fund a piece of RC construction equipment, but yesterday I thought it would be a good day to break it in and see what it was all about. I took a lot of before pictures, as once you run them, they never are as perfect or clean again! Here are some of my favorites.
I wanted some good power so I choose an O.S. .28XZ!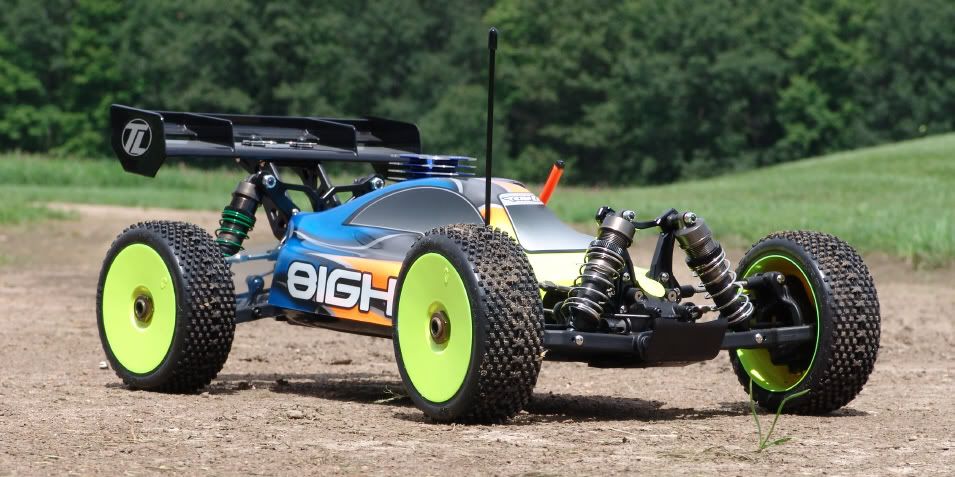 And of course, we need some after pictures too. The engine is still not quite broken in yet, but it's getting there. I've got the majority of the break in complete. Another half a gallon, taking it easy, and it should be there. I choose to do the heat cycle method, for break in. I think it's superior to other methods, now that I've done it. At the end of the night, I was running up to half throttle, with gentle pulls and the .28XZ really pushes the buggy like nothing! This thing is going to fast! Handles incredible too. My track was dusty and loose, yet it 'turned in' like no other RC I've ever run. Much like an F1 race car for the dirt. That's the best I can describe it.
My track got flooded on the front straight last night! Guess I won't be running today. It's been a wet summer over here. Oh well. It should dry fast. Sand based soil and all! Can't wait to get a little more run time on her.